Long long ago, there was a great bear…
1966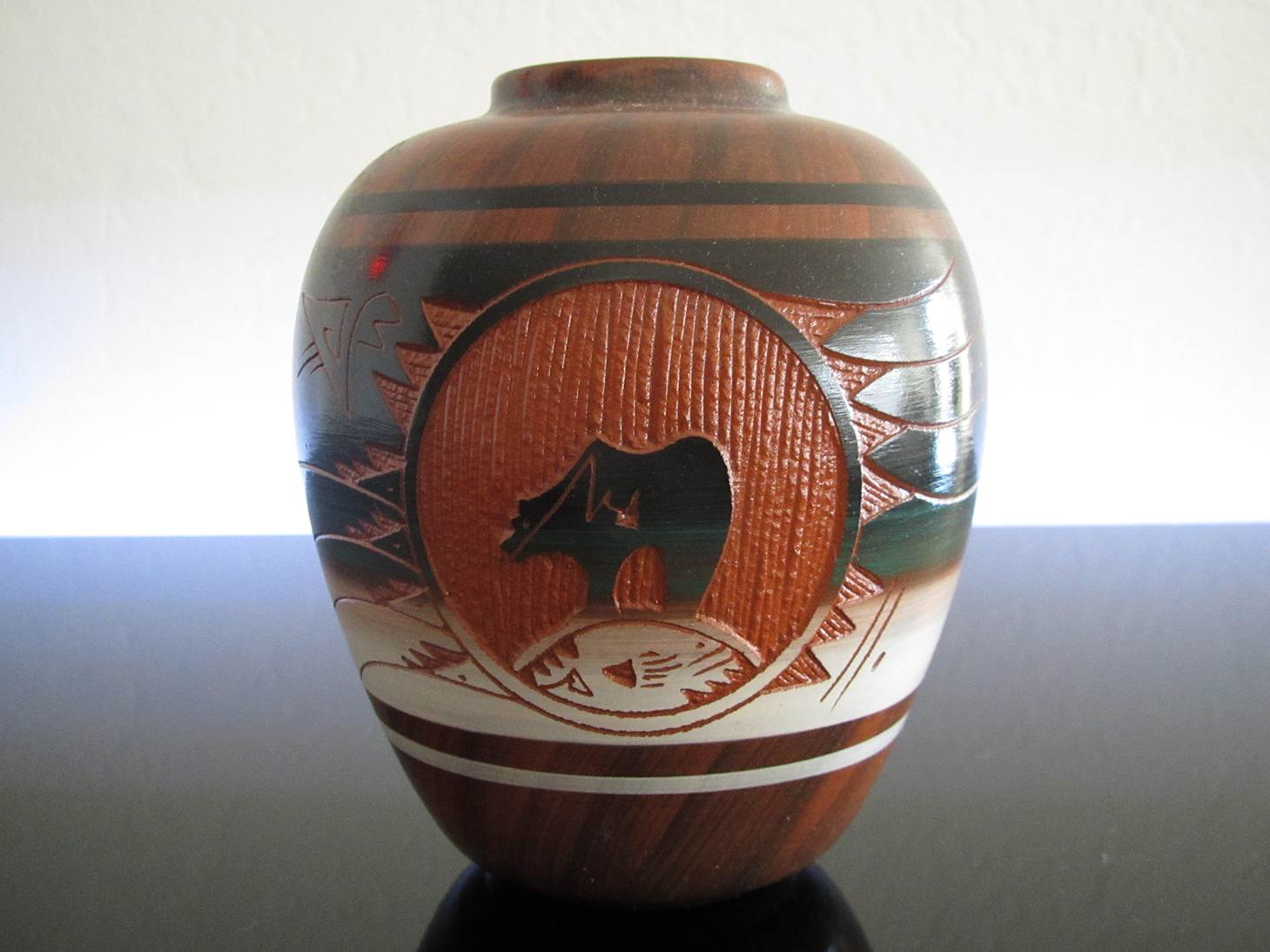 ---
Frederick W. Schram, Senior
1909 - 1992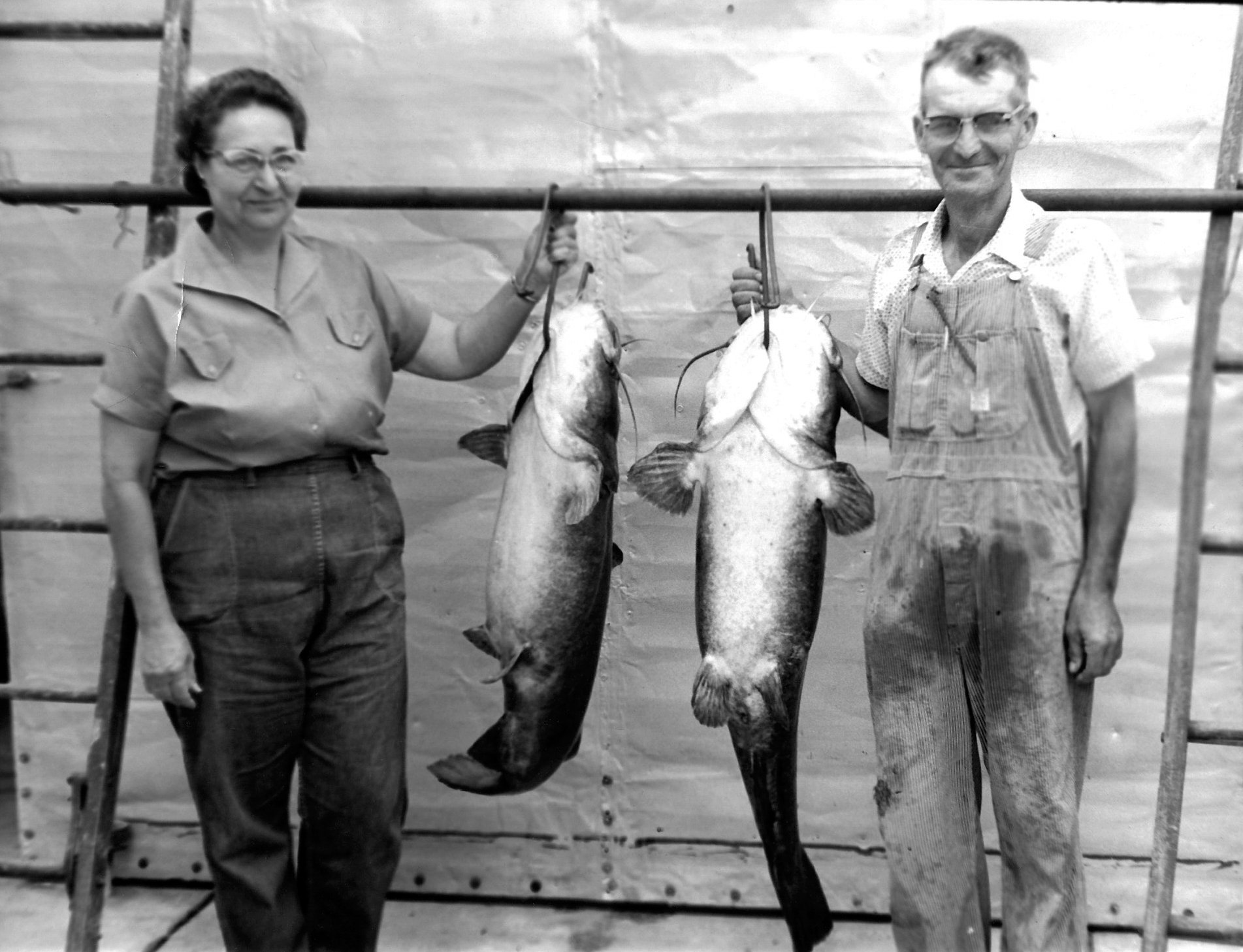 Alice & Fred Schram with Catfish caught from the banks of the Wisconsin River
Frederick W. Schram, 82, of Lone Rock Wisconsin passed away on March 15, 1992 after a lengthy battle with cancer and arthritis. Fred was born on April 2, 1909 to Michael and Minnie (Hebener) Schram.
Fred was the loving husband of Alice Amelia Repka who he married on December 13, 1932. He enjoyed fishing, hunting and gardening. He worked for many years packaging and delivering livestock feed at the grain mill next to his home in Lone Rock Wisconsin before the mill was destroyed by fire.
He is survived by his son Fred C. Schram Junior and daughter Betty Ann Schram. He was preceded in death by his Mother and Father.
Fred is buried in the Button Cemetery, Buena Vista Township, Richland County, Wisconsin.
---
Betty Ann Schram
1946 - 1995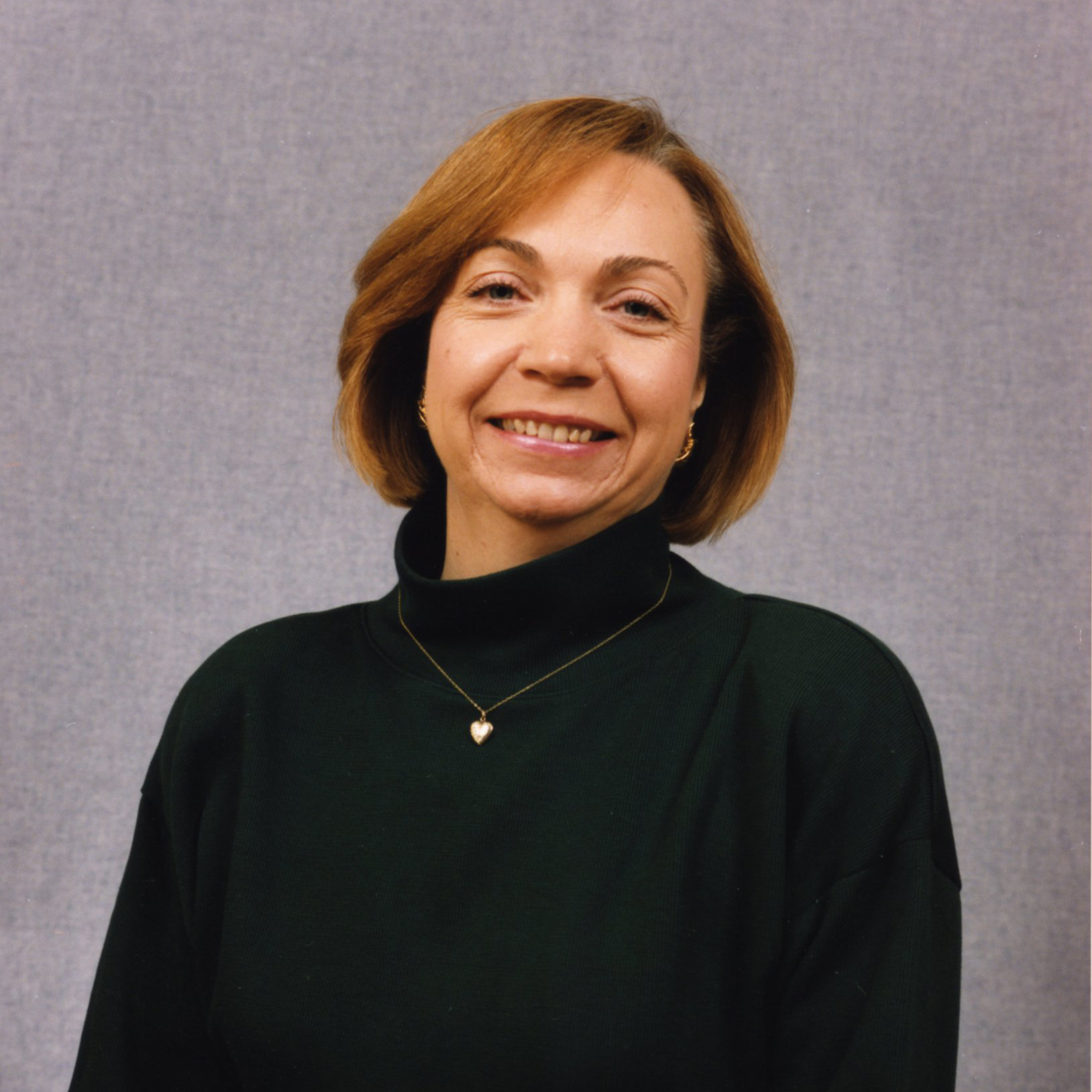 Employee Of The Month Photo, Wisconsin Motor Vehicles Department
Betty Ann Schram, 49, of Madison Wisconsin passed away at her home the morning of July 13, 1995 after a short but courageous battle with ovarian cancer.
Betty was a Motor Vehicle Program Specialist with the Wisconsin Department of Transportation where she worked for the last 10 years.
She is survived by her son James of Santa Clara California; mother Alice of Lone Rock Wisconsin; brother Fred and his wife Lorraine Schram of Lone Rock; niece Michelle and her husband Walter Neverman of DeForest; nephew Michael and his wife Christine Schram of Mazomanie, great-niece Sara Neverman of DeForest; great-nephew Sean Neverman of DeForest; great-nephew Steven Schram of Mazomanie; and great-nephew Thomas Schram of Mazomanie.
Betty was preceded in death by her father, Fred Schram of Lone Rock. Private cremation was held at Cress Funeral Home. Memorials may be made to the American Cancer Society and to Friends of Channel 21.
Remembrance
If you wish to remember me, do it with a kind deed or a word to someone who needs you.
If you do all that I have asked, I will live forever.
---
Frederick C. Schram, Junior
1934 - 1996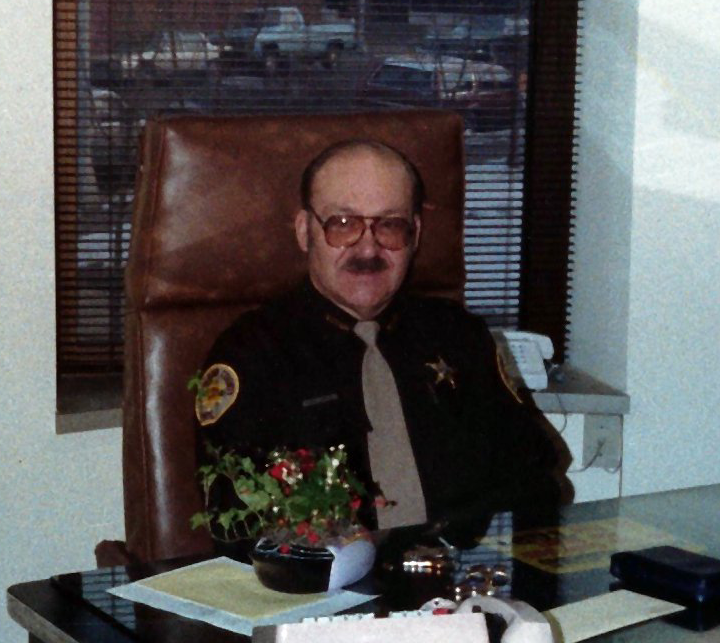 Sheriff Fred Schram, Richland Center Wisconsin
Frederick C. Schram, 61, of Lone Rock, Wisconsin, passed away on Monday, January 1, 1996 at St. Mary's Hospital after a 5-1/2 year battle with Multiple - Myeloma. Fred was born on February 14, 1934, in Sauk County to Fred W. and Alice (Repka) Schram.
Fred was the loving husband of Lorraine Nondorf Schram who he married on February 8, 1958 at St. Malachi's in Clyde.
Fred is further survived by his daughter Michelle Neverman and her husband, Walter of DeForest; his son, Michael Schram and his wife, Christine of Mazomanie; grandchildren, Sara and Sean Neverman and Steven and Thomas Schram. Fred is also survived by his mother, Alice Schram of Lone Rock; and his nephew, Jim Schram of Santa Clara, California. He was preceded in death by his father, Fred Schram in 1992; and his sister, Betty Schram in 1995.
Fred was the Sheriff of Richland County, an office he held for the past 9 years. Prior to being Sheriff, he owned and operated Fred's Auto Service for 24-1/2 years. Fred had a strong sense of public service including EMT, Lone Rock Fireman for 40 years and village board member for 16 years. Fred had a love of the outdoors whether he was hunting, fishing or simply exploring the woods with his boys, Mike, Walt, Sean, Steven, Thomas, Craig and Kevin. He was a lifetime member of the National Rifle Association and a member of Ducks Unlimited, National Wild Turkey Federation and Ruffed Grouse Society. He was a private pilot since 1967 and past president of the Tri-County Flying Club. He was a member of the Experimental Aircraft Association, spending 15 summers with Lorraine volunteering their time at Oshkosh. He owned various airplanes, including two Citabrias, a Decathalon, a C-172 and a C170B.
Memorial services were held on Friday, January 5, 1996 at 11:00 a.m. at the Pratt Funeral Home in Richland Center, Wisconsin. Visitation was held on Thursday, January 4, 1996 at the Pratt Funeral Home from 4:00 p.m. until 8:00 p.m.
The family wishes to extend its sincere gratitude to the Oncology Department at the Dean Medical Clinic. Also everlasting thanks to Kris Schwartz and Lauri Weble for the care they provided to Fred.
Remembrance
Though his smile is gone forever,
And his hand we cannot touch,
We have so many memories
Of the one we love so much.
His memory is our keepsake,
With which we will never part,
God has him in his keeping,
And we have him in our hearts.
---
Joel Edward Short
1970 - 2004
Joel "Ain't" Short, UCLA Campus
Joel Edward Short, an innovator in computer networking and co-founder of a company that assists wireless service providers, died November 21, 2004 in Los Angeles of undisclosed causes. He was 34.
Fascinated by technology since childhood, Joel earned a bachelor's degree at Cal State Chico and began his career in Silicon Valley working for Apple computers.
He subsequently earned a Doctorate in Computer Science at UCLA, where he worked closely with his professor, Internet pioneer Leonard Kleinrock.
In 1998, Joel and Len co-founded Nomadix, which manufactures gateways that enable service providers to make money with special wireless features.
Joel was senior vice president and chief technology officer.
As vice chairman of the Wi-Fi Alliance's wireless Internet service provider roaming committee, Joel was also a popular speaker and writer on problems with roaming agreements and opportunities for generating revenue with wireless services.
Remembered for his youthful exuberance and infectious smile, he was an avid cyclist, diver and prolific inventor in the area of computer networking with many patents to his name. He was able to travel the world and loved Sydney Australia, one of his favorite places on earth. He loved to dance and have dinner with all his friends. His heart and smile brightened everyone he met. He was loved very much by his friends and so very deeply by his family.
He is survived by his father, Robert P. Short; his mother, Kathy Short and her domestic partner, Patti Canoles; and his brother, Robert L. Short. Joel's zest for life will always live.
In lieu of flowers, please send any donations in Joel's honor to: American Heart Association; American Cancer Society; Alzheimer's Foundation of America; AIDS Project Los Angeles; SF AIDS Foundation.
Thank you Christopher Vaughn for this beautiful memorial.
Two Years
From time to time i lose myself
smothering
memories of a distant life surround me
with a feeling unlike any i have known
like icy hands they tear at me
until the cold numbs the pain
i walk away
Did i see you standing there
or was it
just the shadow of a fading memory
of a time we spent together long ago
thoughts of you are in my mind
so often now i can't explain
how things endure
Telling of this love unending
remember
matters not what petty others think of me
sequestered in my life so unimportant now
very briefly i'm dumbfounded
by such furtive catlike wisdom
life carries on
Laughing through the night until
tomorrow
dawn subdues the silent darkness i awake
and feel a cold wind touch my face in summer shade
i was dreaming of a place
heaven but on earth perhaps
of you and i
Life is never what it seems
innocence
lost among the tears as fading memories
searching for another i am so alone
we take for granted special things
fathomed only once they're gone
i still love you
My friend i give to you these thoughts
cautiously
through pain in private ways we seem to work things out
but letting go is something much more difficult
tomorrow's here to let you know
that you are always welcome
in my life
May you find love in every memory.
Happy Anniversary Joel
---
Alice Amelia Schram
1911 - 2005
Alice & Fred, Grandma & Grandpa
Alice Amelia Schram, age 93, of Lone Rock Wisconsin died Wednesday, May 18, 2005 at Greenway Manor in Spring Green Wisconsin. She was born August 20, 1911, the daughter of Anton and Pauline (Schroeder) Repka in Iowa County.
Alice attended the Penn Hollow School and in 1927 moved to Lone Rock where she graduated from Lone Rock High School in 1930.
On December 13, 1933, Alice married Fred Schram. Together they enjoyed fishing and hunting. Alice also loved working in her gardens. For many years she did wall papering and cleaning of many homes in the Lone Rock area.
Alice is survived by four grandchildren, Michelle Schram (Ken Kreuscher) of Watertown Wisconsin, Michael (Christine) Schram of Mazomanie Wisconsin, James Schram (Paul Shields) of San Francisco California, and Walter Neverman of Sun Prairie Wisconsin; daughter-in-law Lorraine Schram (Orin Howard) of Lone Rock Wisconsin; four great-grandchildren, Sara and Sean Neverman, and Steven and Thomas Schram; many nieces, nephews, other relatives and friends.
Alice was preceded in death by her parents; husband, Fred Schram Senior; son, Fred Schram Junior; daughter, Betty Schram; and a sister, Lila Adams.
Funeral services were held on Wednesday, May 25, 2005 at 11:30 a.m. at the Pratt Memorial Chapel with the Reverend Craig Peach officiating, with burial following in the Button Cemetery, Buena Vista Township, Richland County, Wisconsin.
---
Ryan K. Robertson
1972 - 2005
Ryan was nervous before getting his Winnie The Pooh tattoo
Ryan K. Robertson, age 32, died Tuesday, September 13, 2005 in Seattle Washington. Ryan was born December 11, 1972.
I first met Ryan shortly after he relocated from Seattle Washington to the San Francisco Bay Area, when we hired him to work with us in the Newton Developer Technical Support group at Apple Computer. After the Newton division was shut down, Ryan followed us to US Robotics / Palm Computing / Palm Inc. as a Wireless Specialist in Product Development. He later moved back to Seattle and worked for OpenWave Inc. as a Senior Product Technologist.
Ryan's death was sudden and unexpected. I believe he never really knew how many people his amazing life touched. He is deeply missed by all who knew him.
Remembrance
"I am Ryan's father and have a heavy heart overwhelmed with grief. Early in his life I knew Ryan was a different child and soon concluded that he was Gay. It was not until 8 or 9 years later that he 'came out'. At that time he was full of apprehension and was sure I would reject him. I convinced him otherwise explaining I would always love him no matter what his sexual orientation and that it was my opinion he had no choice in the matter as it was a genetic development. I feel we became great friends in spite of the fact that we were 2000 miles apart and we developed a relationship based on these conditions and facts. I knew Ryan was in pain but had no concept of the depth of his pain. He desperately wanted to have a meaningful, loving, lasting personal relationship.
My plea to you no matter your sexual orientation is do not be afraid to make a commitment for a long term relationship. When you are young this does not seem to be important but when you are older it becomes very important as it is no fun growing old alone. Do not let Ryan's departure be in vain. Ryan was loving, caring, and sensitive and I could not ask for more in a son.
Ryan I love you more than life and desperately miss you. I will always remember the great times we had together and your smiling face." — Dad
---
William Roger Shields, Junior
1936 - 2007
Bill Shields at Creighton's Deli in San Francisco
William Roger Shields Junior, age 70, of Stewart Florida passed away on Saturday, March 24, 2007 from complications related to Leukemia (Sepsis). He was born September 6, 1936 in Chicago, Illinois.
Bill graduated from Lindsey Hopkins Technical Institute in Miami and served in the United States Army for four years. He also served over 45 years as an electrical journeyman wireman out of IBEW ("I've been everywhere!") #349 in Miami, Florida.
He loved the water, and was a fisherman, captain sailor, sports fan and motorcycle biker. He was strong-willed, stubborn and stuck to what he believed was the best way to do things. "My way or the highway." We were on the highway a lot! Dad did everything in life that he wanted to and felt he lived a very full and complete life. He said he wouldn't have changed a thing.
William leaves behind a son, Paul William Shields; a daughter, Candiece Mili Shields; and a wife, Beverly Jean Shields.
---
Magnum
? - 2009
Paul & Magnum on our rooftop deck in San Francisco
Magnum, age unknown, passed away on Friday, August 28, 2009 from a drowning accident in a covered pool while playing unsupervised with his best doggy friend.
Magnum was Paul's Registered Service Animal. In addition to providing emotional comfort, we trained Magnum to detect abnormal blood glucose levels after Paul became permanently diabetic from emergency surgery to remove his pancreas, gall bladder and spleen. Magnum was a rescue dog and he showed his appreciation for his new life with every passing day. He was, for all intents and purposes, our son. He is forever deeply missed.
---
Austin
2003 - 2017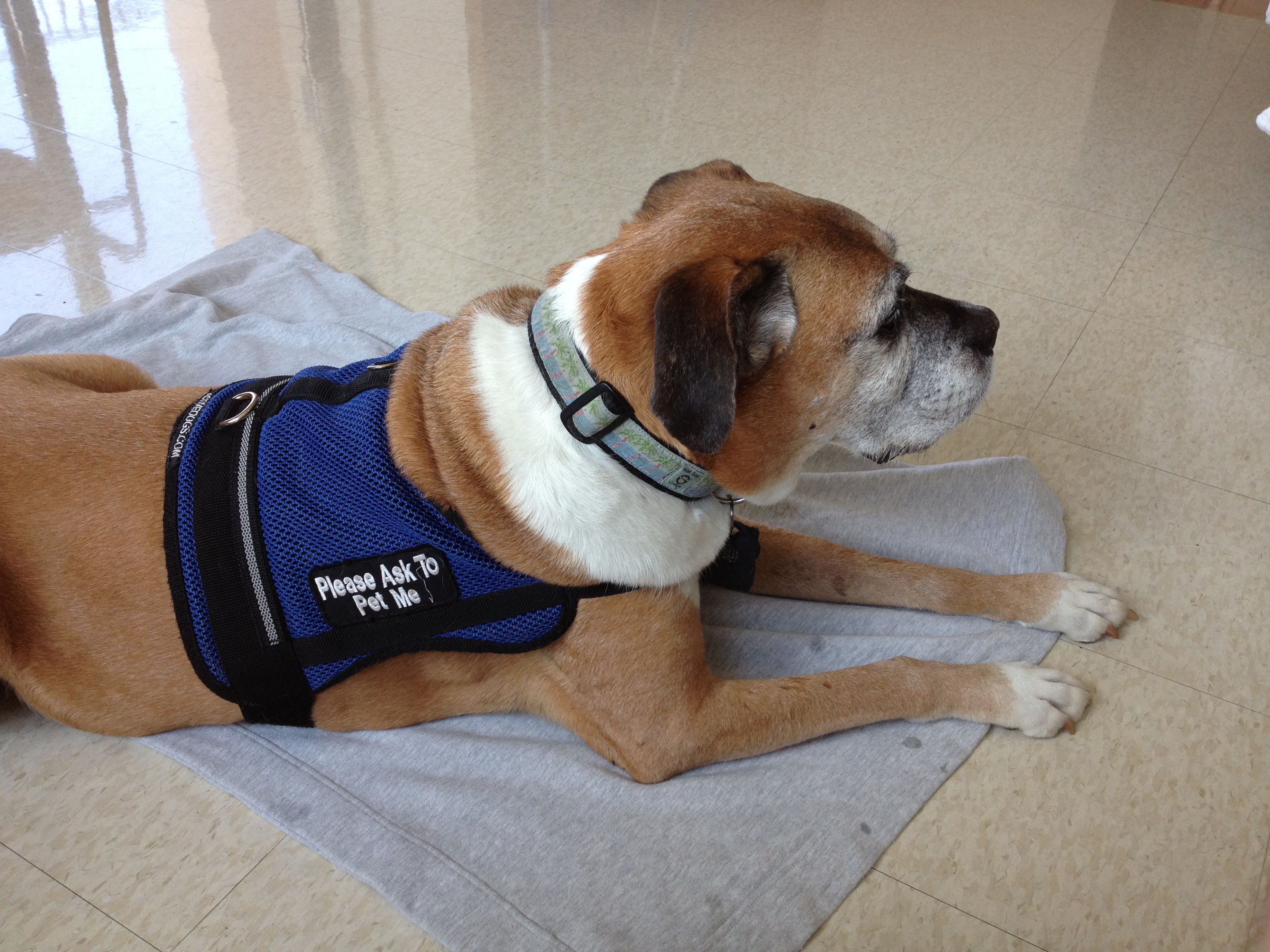 Austin at Celebration Cancer Center in Kissimmee Florida
Austin, age 14, passed away on Tuesday, October 3, 2017 after emergency surgery to remove a large internal cancerous mass around his spleen.
Austin was a rescue dog and Paul's second Registered Diabetic Service Animal. He was one of the kindest and most loving creatures ever to inhabit the Earth, and to Paul and I, he was our second son. His abrupt and unexpected passing has left yet another empty space in our hearts that can never be filled.
---
Not every ending is a new beginning.
∞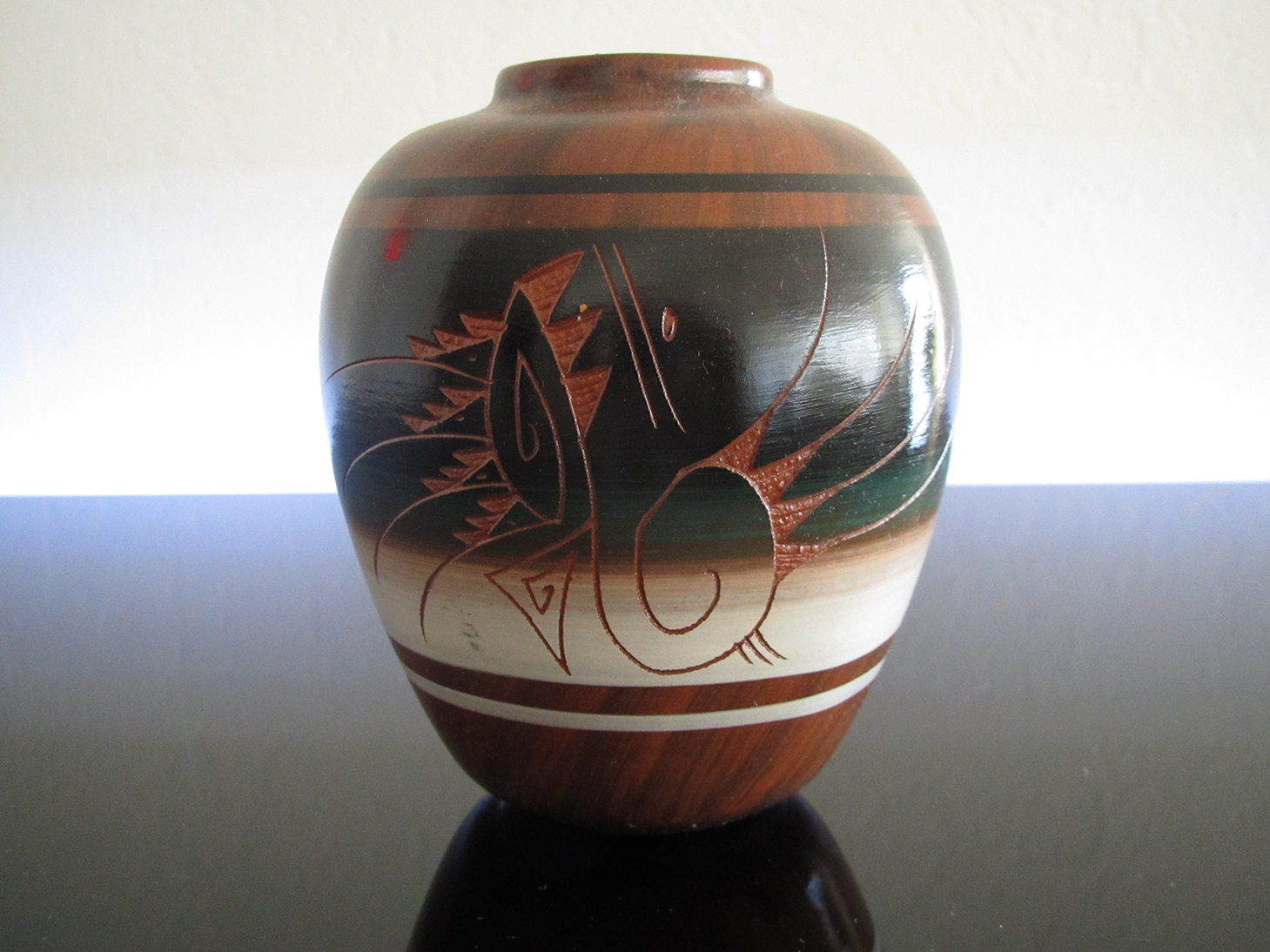 Peace, Love and Understanding to All Creatures Great and Small